Happy New Year!!! Wishing a healthy and happy 2010.
I love days like these... a vacation day off to be able to stay home and finish up some projects. Earlier this week our knobs for our bedroom nightstands came in from ebay seller
Jetfast
, and they are so beautiful. My Amazing husband installed them and I am in love. Here is a After & Before pic of our finished night stands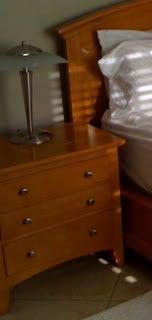 We have painted them (
Instructions
on How to Paint cabinets).
How to install Cabinet Knobs
Step 1 - Measure your cabinet length and width to find the middle of the cabinet. Then cut blue painting tape and place it towards your middle of your cabinet. finally double measure and mark your middle. Use a
drill bit
that is the same size of your screw and drill into the cabinet door.
Step 2 - Get your screw On! Place screw in the back and screw on your knob.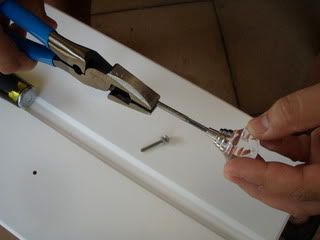 Some of these after market knobs have certain screws that are either too small or not universal. If you are going to recycle your old screws from you previous knob it might not work, which is what happened to us since the new screw were too short. So when I went to Ace Hardware to purchase the new screws a wonderful sales attendant recommended me to purchase a threader. Its under $2.00 and all you need is a plyer so that you can 'thread' your knob. This is a great tool, I was able to also use it on the closet knobs. Great money saving tool!
What to do if your screw it too long? Add a spacer. I diged up our 'extra screw jar' put to see what we can use as a spacer and drum roll please... a nut!!
Yes a nut that is suppose to be installed somewhere in our home but have not figured out where.
so for now they will be perfectly hidden behind each cabinet to secure the knob.
Stay tuned for my master bedroom makeover...