Today was a cold rainy day but that wasn't stopping me!! :) Grabbed some coffee and went shopping. a brand new yellow ruffle scarf from The Gap, Little lessons of Love and a Fen
Sui
book. Mother in law has mentioned a few things about fen
Sui
so I thought I would read up on it since we are re-doing her living room and dining room.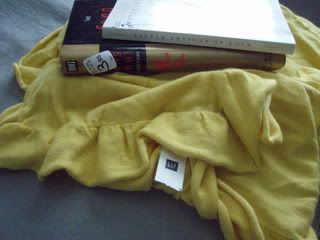 This adorable Tea pot and sugar holder has a story behind it..
I found the tea pot by itself and had all intentions to buy it, but when the cashier told me it was missing a piece I had second thoughts. So I ran back to racks to look for something that looked like it belong
together, no luck
so I decided to leave it. When I got home I showed the Hubster all the goodies plus a tickle me Elmo for $5.95 that I bought for one of our cousins. There was a few of them but I was not sure it they worked so I only purchased one. The Hubster wanted to go back and buy a few more and I was so up to going back to the thrift store! When we walked in I decided to pass by one last time to see if I found anything that matched the teapot and there it was all by itself in the corner, the sugar holder. I grabbed it and went back to the cashier and she still had it under her register.... SCORE!! How Cute is it??